Wire Security Lockers, Partitions & Cages
Security lockers, wire partitions, and wire cages are an inexpensive way to protect your equipment and valuables without interfering with air circulation and lights. Aztec's security lockers help you to turn open building space into fully functional, protected storage areas with customizable visibility.
Secure Valuable Inventory
Items can be seen, without being reachable when you store them in one of our wire lockers. Here are some more benefits of using Aztec wire security lockers to secure your valuable property and equipment.
Quick, clean, and easy to install.
Partitions are expandable.
Can come in custom sizes and shapes.
Wire partitions can be leased to one.
Wire enclosures and the like are capital equipment that can be classified for rapid depreciation.
Wire lockers don't need additional sprinklers or lighting.
Great for air flow in environment controlled buildings, such as wine storage.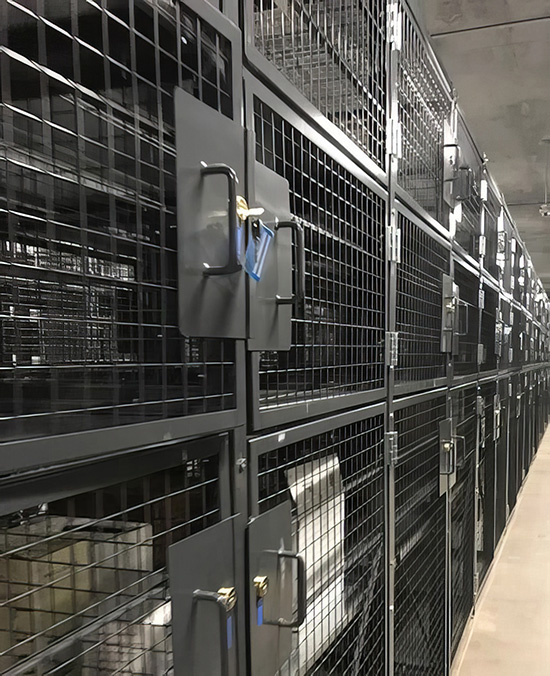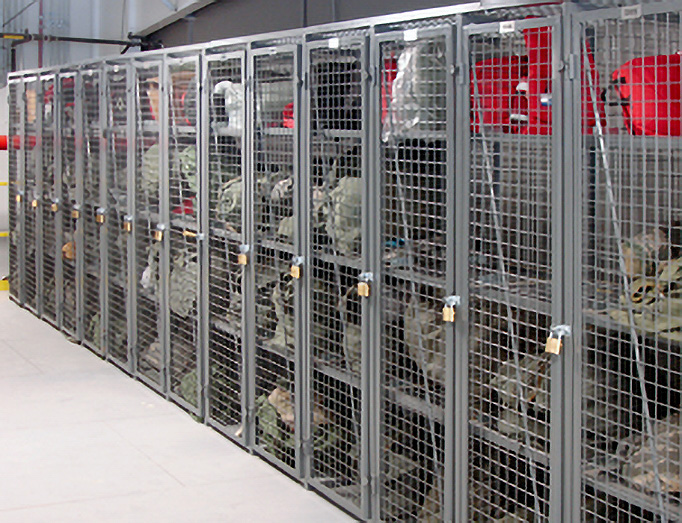 Protect Your Inventory
Wire security lockers offer an unrivaled storage solution that is infinitely adaptable and perfect for everyday use. With a range of uses from warehouses to employee, military or dormitory purposes, this heavy-duty construction requires no maintenance while providing unbeatable security with its open design, giving you ultimate visibility over your belongings as well as natural air circulation and lighting penetration. Easy assembly ensures installation costs stay low too! Convert any space into secure storage today with Aztec's practical multi-purpose security locker options.
Types Of Storage & Security Lockers
Aztec offers a variety of security lockers for a wide variety of uses and needs. Whether you need simple single tier tenant storage, double tier tenant storage or hanging tenant storage, we have practical solutions for you. If you need industrial storage and wire partitions won't quite do the job, you can select from our wire lockers and wire cages for maximum security. We even offer sheet metal tenant storage lockers, and TA-50 gear lockers for industries that need to provide their teams with secure, ventilated and visible lockers.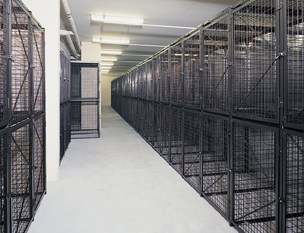 Common Applications of Wire Security Cages
Many industries turn to wire partitions, cages and lockers for storing their valuables in a way that eliminates odor and bacteria growth. For factory workers, hazardous material handling uniforms and protective gear, first responders, athletic teams, event venues or construction companies, there is no limit to who can benefit from these wire security cages. Make it easy to keep your break room, locker room or storage room organized and secure. At Aztec, we have helped companies in a wide range of industries rearrange their storage layout to help improve productivity, loss prevention, and overall workflow.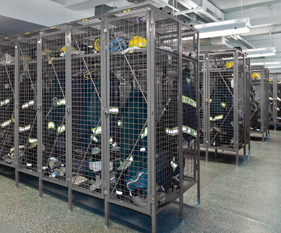 Wire Cages For Machinery
Beyond just storing and protecting gear, wire cages are designed to keep personnel safe from machinery and debris. By utilizing wire cages in your warehouse or production facility, you can ensure that machines and equipment will be surrounded by a guarding cage keeping people and limbs away from danger.
Wire Cages For DEA Drug Storage
Whether you're in law enforcement, pharmaceuticals or scientific research sectors, our wire cages for DEA Drug storage are highly secure and controlled. Avoid fines, fees and citations due to incompliant storage procedures by choosing a trusted brand in the drug storage industry. Aztec offers DEA compliant and approved drug storage cages that meet regulation standards in the US and Canada. Make certain that your inventory isn't compromised and that you don't hit any setbacks due to improper storage. We aim to exceed federal regulations for storage so you can proceed with confidence.
Wire Partitions
Aztec offers wire partitions so you can separate and control your space with full visibility, and security. Easy to install and relocate, wire partitions give you the ability to turn an open space into a clearly planned environment. Keep personnel out of a dangerous or private area, and keep interference at bay. For an added layer of safety and preventative care, wire partitions are a great choice!
Apartment Package Lockers
Our apartment package lockers allow you to offer your tenants additional storage space. Easy to add into your existing apartment parking garages, or to design into new construction projects, our storage lockers are a great way to utilize previously wasted square footage. Add value to your buildings, and make additional income by providing your tenants with Aztec's package lockers for apartment buildings. Stand out from the competition, and offer tenants more square footage, without needing to remodel apartments.
Everybody wants garage storage space. Since garage storage isn't something that is typically offered to apartment renters, having parking garage storage lockers gives you an advantage in the industry. Apartment package lockers make tenants feel more comfortable, by having a space outside of their home for items like sporting equipment, tools, holiday decorations, seasonal items, camping gear and more. It invites them to stay longer, and avoid the inconvenience and added expense of renting a third party storage unit. By providing apartment storage lockers, you increase tenant satisfaction and add another source of revenue to your business.
Sheet Metal Security Lockers With Privacy
Sheet Metal security lockers are a great solution for store owners in need of secure, long-term storage. Sheet Metal storage lockers are made from high-grade steel and come with a locking system, making them perfect for keeping valuables or other items away from prying eyes. Store tools and equipment safely, allowing valued company items to remain secure even when the building is unattended. Sheet Metal lockers are durable and versatile, helping to protect stored property over the long term, but are easy to access for short term storage as well. Choose from a variety of sizes and styles, to adapt to your unique business needs. Investing in Sheet Metal storage lockers helps ensure that your valuable assets will remain secure allowing you to protect your investments!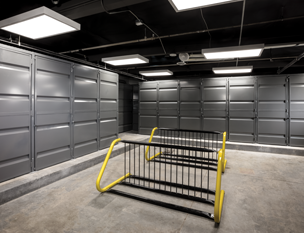 Hanging Tenant Storage Lockers
Hanging storage lockers allow you to utilize otherwise wasted space in your parking garage or storage area. Another advantage of hanging lockers is that you can keep items up off of the ground from curious animals, or potential flooding. Save space and keep items safe off of the ground with easy to access, secure hanging lockers. In a variety of configurations, you can create custom storage lockers for along walls, in corners, in front of parking stalls, and more. Keep dangerous materials out of reach from children and add a lock for maximum security.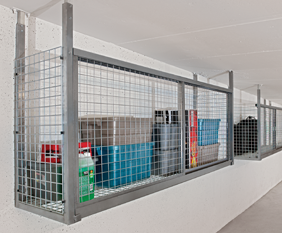 Ready To Get Your Security Lockers?
Choose from our variety of practical storage locker solutions, or mix and match to customize your space. Whether you have a team of first responders, precious inventory, or just need more organization for your tenants, Aztec has the security locker solutions you need! Let our team of experts help you draw & design the layout, take care of the permit process, and install the right set up for your business needs. Call (714)771-6580 today to get started! Or, request a quote here!