Cleanrooms
Modular cleanrooms are a great addition to many businesses as they provide quick and easy access to a controlled environment that is perfect for sensitive processes. Modular cleanrooms are traditionally seen in manufacturing, bio-tech and even medical research facilities as they can quickly create a sterile, contamination-free space for delicate operations.
About Modular Cleanrooms
When you need to create an efficient workflow without compromising on quality control by providing enhanced protection from dust, airborne particles, and other contaminants, modular cleanrooms are a great option. Modular cleanrooms come in both temporary and permanent options making them perfect for businesses looking for a flexible solution. Cleanroom manufacturers and distributors such as Aztec, provide customizable solutions tailored to suit specific requirements and operations, making softwall cleanrooms both reliable and cost-effective in the long run.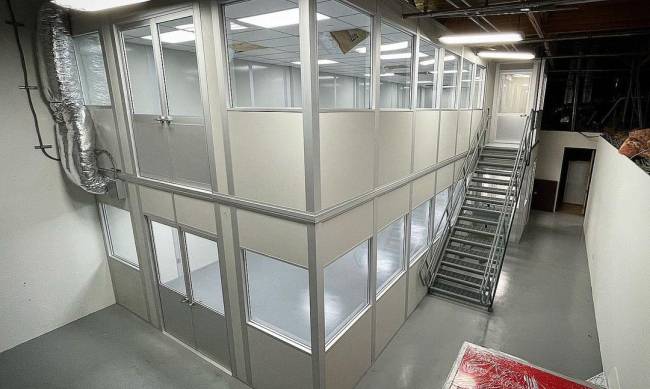 Modular Cleanroom Applications
There are countless uses and applications for modular cleanrooms in a vast range of industries. When you need a space to assemble, package, test, grow, or control, modular cleanrooms are a great option. Aztec provides modular cleanrooms for industries and uses including but not limited to:
Technology
Sensitive Equipment Manufacturing
Scientific Research & Laboratory Uses
Cannabis Grow Rooms
CMM Rooms - Coordinate Measuring Machines
Controlled Environment Rooms
Packaging Rooms - Pharmaceutical
Modular Isolation Rooms - Hospitals & Medical Uses
Food Packaging & Preparation
Temperature and humidity controlled packaging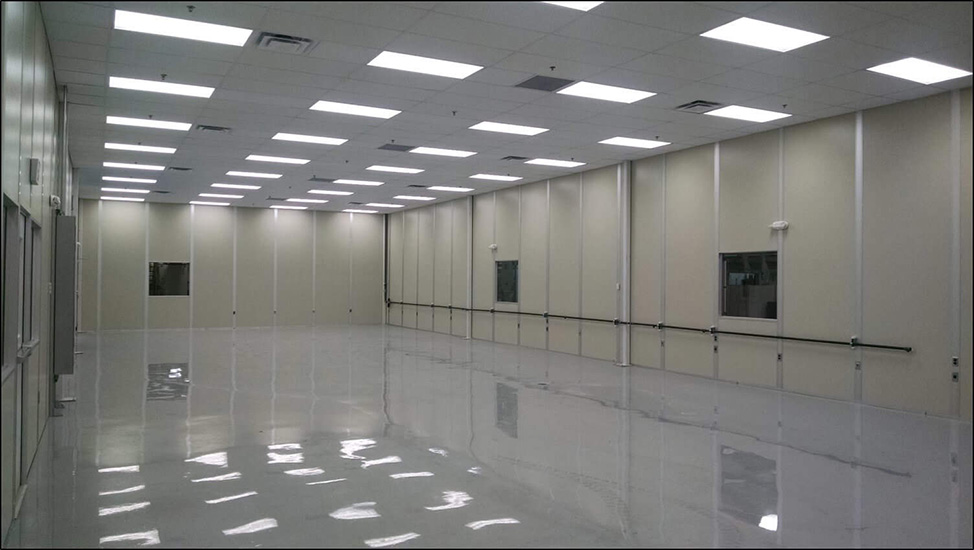 Advantages of Modular Cleanrooms
The many advantages that modular cleanrooms offer have caused them to become increasingly popular among business and warehouse owners. Advantages include being portable, flexible, easy to set up, and much more cost-effective than traditionally built cleanrooms due to their modular construction. Working with experienced modular cleanroom manufacturers and distributors like Aztec, can guarantee that your product meets the highest standards of quality control across multiple industries.
The increased awareness of the many advantages of modular cleanrooms has gained them popularity throughout cleanroom manufacturers and a vast range of industries in need. More companies are choosing modular cleanrooms for their projects due to the convenience and efficiency they offer over traditional builds. Additionally, modular construction contributes to a cleaner local environment because they can be quickly installed with fewer resources than a typical construction process.
Additional Portable Cleanroom Benefits
Other portable cleanroom advantages include portability, as they can be moved from one area to another within the facility, or taken apart and reassembled once relocated. Also, they are considered more cost efficient than traditional cleanroom designs due to their decreased labor costs since less on-site construction is required. Furthermore, a portable cleanroom removes the restriction associated with working in a permanent location since components can be easily added and removed in order to adjust the size and shape of the cleanroom space.
As a result, portable cleanrooms provide flexibility and adaptability for companies with fluctuating production demands, allowing them to quickly change the configuration for different projects or product mixes. Finally, modular walls also offer faster installation times than traditional construction techniques which can shorten a facility's downtime during renovation or expansion periods.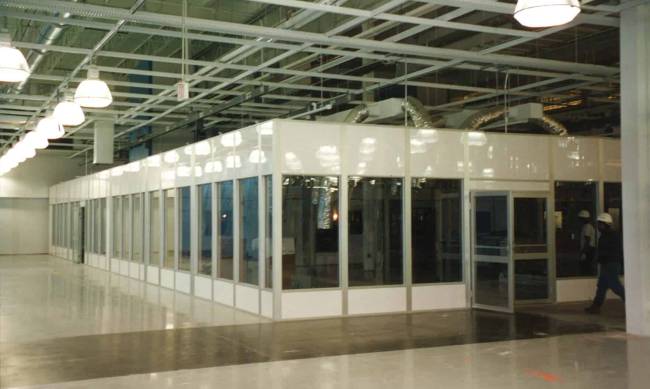 ISO Certification & Standards
Prefabricated cleanrooms generally come with the assurance of ISO standards that guarantee a certain level of cleanliness. Expertly designed to meet specific needs, these certified rooms are configured for the existing environment, tailored to any application requirements and made from specialized materials, and delivered through skilled mechanical system designs. Check with your Aztec representative to get details on the certifications that come with your cleanroom. As leading cleanroom manufacturers, we take safety seriously.
Cleanroom Ventilation & Humidity Control
Modular cleanroom ventilation & humidity control is an essential element of any cleanroom environment. It provides a clean, dust-free air supply and maintains a comfortable temperature and humidity level, making the environment safe and productive for employees working in the space. Modular cleanroom ventilation & humidity control systems are designed to provide optimal levels of air exchange while filtering out airborne contaminants, meeting strict industry standards.
The system ensures that the quality of air in the space remains within acceptable limits by using sensors and filters that monitor environmental factors such as temperature, humidity, particulate matter, carbon dioxide, and airflow rate. Modular cleanroom ventilation & humidity control systems also include features such as adjustable dampers and blowers for ventilation adjustments to ensure optimal performance on a continual basis.
Modular Cleanroom Validation
Modular Cleanroom Validation is an essential process for ensuring that cleanrooms are operated to the highest safety and quality standards. Modular cleanrooms use air walls with positive and negative pressure differential, combined with advanced HVAC systems, to provide superior environmental performance. The validation process will determine whether the modular cleanroom meets the specific requirement of the customer's product application. Aztec supplies the HVAC, Sprinklers, Electrical and does fully permitted projects– "Turnkey"
Validation ensures that when used according to design specifications, a modular cleanroom can provide all necessary protection from contaminants, controlling particle levels as well as temperature and humidity variations. Modular Cleanroom Validation guarantees superior biosafety protocols for healthcare and medical applications, guaranteeing protection from infectious diseases or contamination of any kind. Aztec has been manufacturing, distributing and installing modular cleanrooms for years, and understands the Validation process. Don't put your business or team at risk, trust the pros to get your cleanroom up safely.
Ready To Get Your Modular Cleanroom?
The best part about choosing modular cleanrooms is that there are very desirable lead times, with minimal supply issues when compared to traditional builds. Minimize installation times by avoiding permitting issues, material shortages, and unplanned obstacles. Modular cleanrooms are designed to be customized for your space, and are minimally invasive to your production schedule. Call Aztec at (714) 771-6580 today to get your cleanroom designed, delivered and installed. Or, request a quote here!