Modular Offices & Inplant Buildings
Modular offices and inplant offices are an innovative solution for businesses looking to add extra work or storage space without the costs and delays associated with traditional construction methods. Quickly constructed at a fraction of the cost, modular offices are easy to install and often offer features such as insulated walls and modular layout options. In addition, modular warehouse offices have the versatility to be moved to new locations if needed or reconfigured over time according to changing capacity needs. The low maintenance needs of modular offices pair well with their quick installation, making them a smart choice for companies looking for flexible, cost-effective solutions. Need to move? Easily take them with you if you move to a different location.
Benefits of Modular Offices
There are numerous benefits of choosing inplant modular offices for your open space. Some of the most popular reasons are:
Quick, clean & easy installation with very little dust. No painting or sanding involved.
Available in various colors to match the look and feel of your work environment.
Compatible for both interior & exterior installations.
Units are expandable.
Modular offices can be leased to own.
Are capital equipment for rapid depreciation.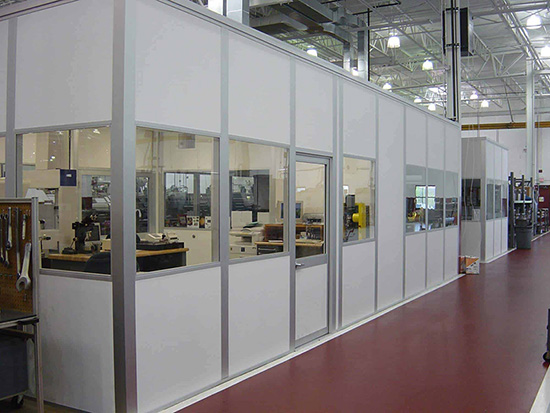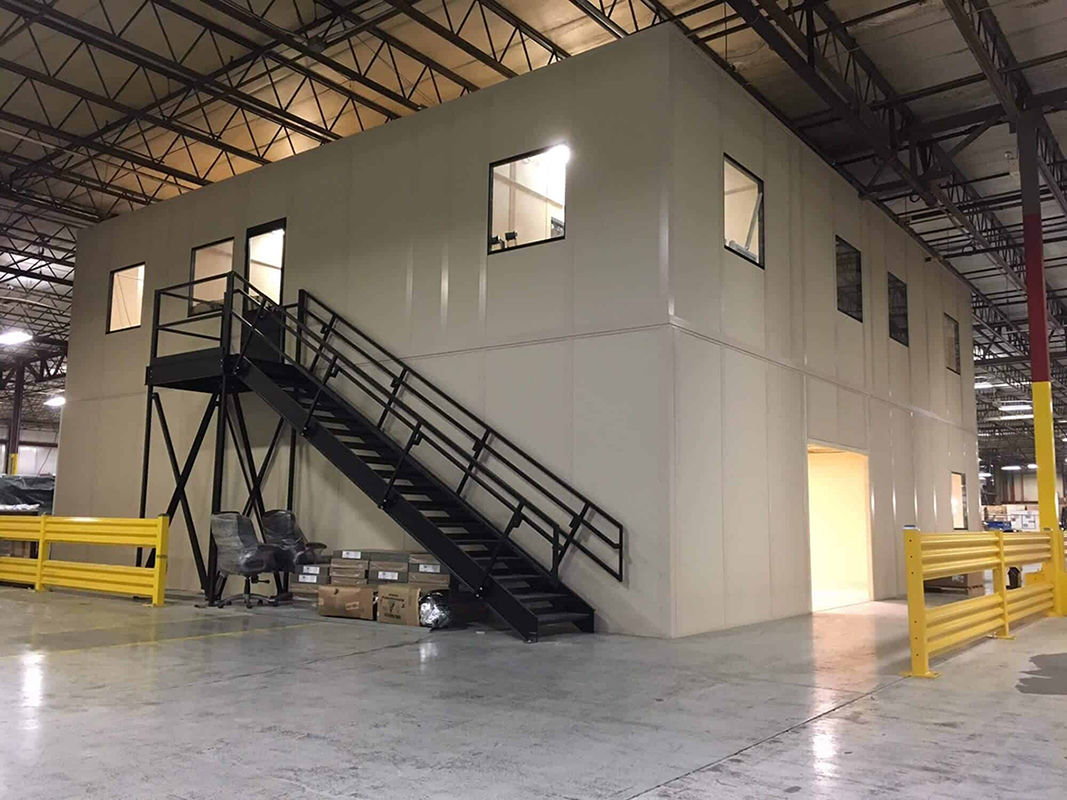 Advantages of Inplant Modular Offices
Our modular inplant offices promote an effective work environment that helps ensure your team is protected from the noise and distractions of their surroundings. A major advantage of inplant offices is that you can utilize our insulated panels for sound reduction and ultimate privacy. Select from a variety of window, door and panel materials to create the office environment that works best for your company's needs.
With customizable security options, you can rest assured sensitive operations or information will stay safe and secure in your new modular building. Choose your level of visibility, security, and access. Temperature control features also give employees a comfortable workspace that won't be affected by unpredictable environments. This also provides proper ventilation and airflow. Best of all, no matter how big or small your modular warehouse office needs may be, our structures are capable of accommodating from as little as one to two workers, up to hundreds of workers!
An Eco-Friendly Solution

By choosing Aztec's inplant modular offices, you will not only save time and money, but you will also be choosing an environmentally friendly solution. We are proud to create win-win solutions that benefit everyone, while utilizing eco-friendly building systems. Get customizable modular warehouse offices with minimal waste, minimal interruption and minimal downtime (if any). By using recycled materials and utilizing modular building models, we are able to significantly reduce waste. Aztec's modular offices also create less mess and hazardous materials which provides more safety and efficiency all the way around.
Applications For Inplant Offices
The possibilities are endless when it comes to maximizing your open space, and creating workable offices with our inplant offices. With a wide variety of industries and businesses utilizing this modular technology, it is no wonder it has become the popular go-to choice for adding offices to open spaces. Some common applications of inplant offices are:
Industrial spaces
Warehouses
Empty buildings
Universities & schools
Factories
Air Force bases military
Aerospace
Manufacturing plants
Auto showrooms
Boxing & shipping facilities
Many More!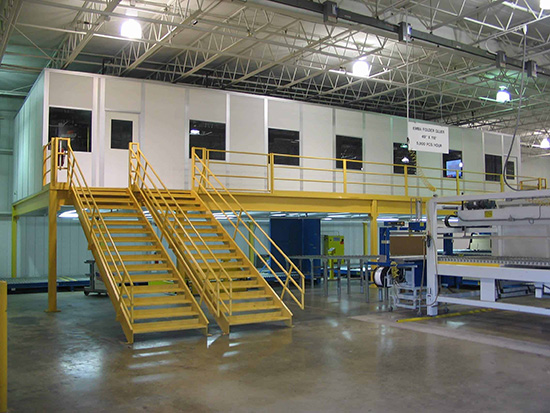 Multi-Story Modular Inplant Offices
Maximize your workspace with multi-story modular inplant offices! Construct entire office complexes that fit within the same area as a single story building, utilizing our structural steel mezzanines to support upper levels. Enjoy bigger and better things without expanding the footprint of your structure! By building up, you can often double your usable space. That can keep you from needing an additional building, or more square feet. Every square foot counts and the expenses can add up quickly! By building multi-story mezzanines with modular offices, you will get the most for your money.
Ready To Get Your Modular Office?
Our team of experts is here for every stage of the process. Let Aztec design, deliver, and install your modular offices for a fully turnkey installation. We even take care of the HVAC, electrical, sprinklers, foundations, permit submission & processing and inspections. We have years of experience in helping companies just like yours get the most out of their open space, allowing them to increase productivity and workflow. Call (714) 771-6580 today for more information and to get started. Or, request a quote here!