Hung Ceilings & Ceiling Grids
Ceiling grids or hung ceilings, have become a popular choice for many different commercial buildings due to their strength, durability, and low cost. Suspended ceiling grids are systems of lightweight panels suspended from an overhead track that do not need support from the structure beneath it. Therefore, suspended ceiling grids are easy to install, requiring minimal labor costs. Additionally, ceiling grids can be easily removed when necessary and offer plenty of flexibility in terms of color and texture choices.
T-Bar Ceilings & Ceiling Tiles Grid
On the other hand, T-bar ceilings are formed by metal grid frames which are lined with ceiling tiles. There is no need to use a suspended system like Hung Ceilings do, making the installation process substantially faster and simpler. T-bar ceilings also allow for as much access as you need while keeping the tiles safe and secure in place.
Advantages Over Traditional Ceilings
Hung ceiling grids and T-bar ceilings offer advantages over other types of ceilings in terms of strength, convenience, cost-effectiveness, aesthetics, vibration resistance, fire resistance, sound absorption and more. This makes them a highly desirable choice for many different spaces. You may also customize lighting and fire sprinkler systems without the need to cut into drywall or pull traditional building permits. They are easy to customize, cause minimal work disruption, and are cost effective solutions. This makes Hung ceiling grids and T-bar ceilings the go to choice for business today.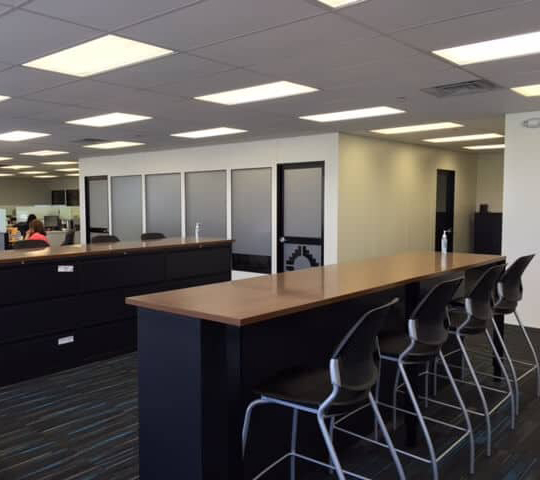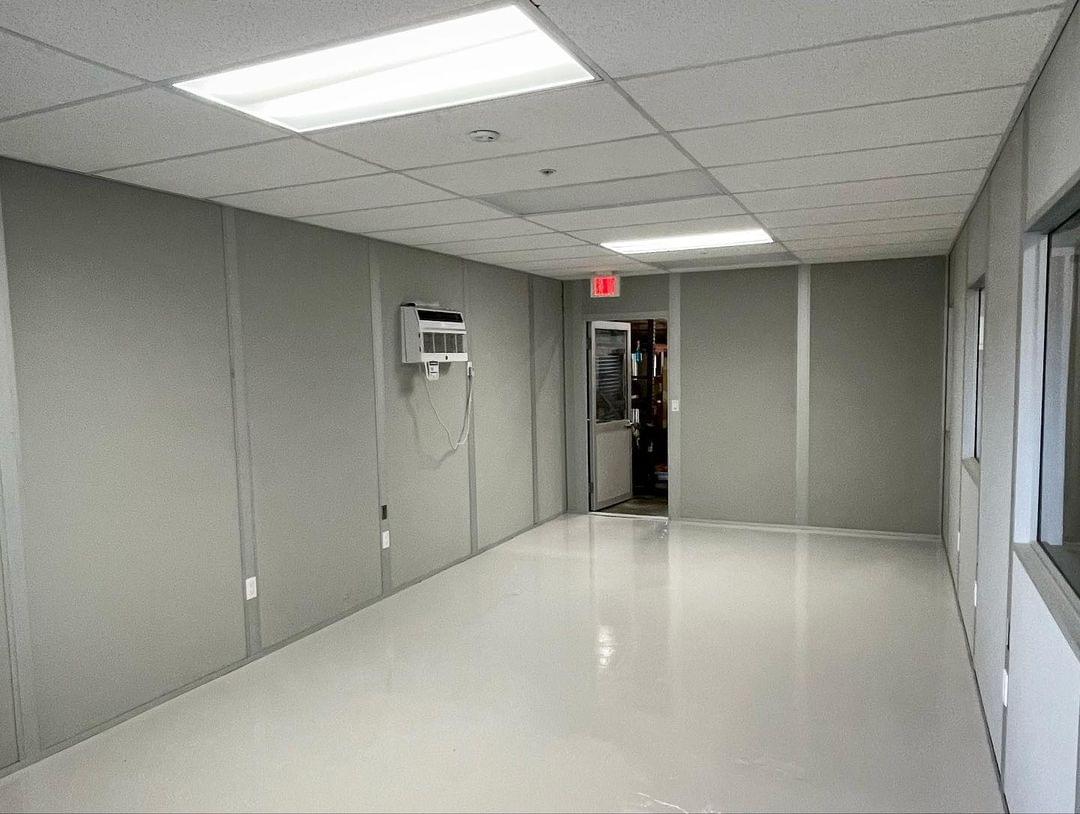 Common Applications For Hung Ceilings & T-bar Ceilings
Control the room and create simple ceiling solutions no matter what use or size your space requires. From sound reduction to atmosphere lighting, ceiling grids and T-bar ceilings allow you to make big open spaces look and feel more like real offices and meeting rooms. Save energy by minimizing open ceiling space, and bring the ceiling closer to the floor without spending a ton of money or pulling traditional building permits. When you choose Aztec's line of modular offices and booths, you will have the option to leave the ceilings open, or close them in.
By adding suspended ceiling grids you create an enclosed room or office which gives even more privacy and room environment control. Save on energy bills by heating or cooling smaller spaces and containing the HVAC. Minimize lighting waste by installing T-bar ceilings around lighting fixtures. Common applications of suspended ceilings are in modular offices for corporations, factories, temporary construction buildings, manufacturing plants and more. You can utilize hung ceilings inside of large offices for room control, or in open warehouses. The possibilities are endless!
Benefits Of Ceiling Tiles Grid
By creating a ceiling tiles grid, you can utilize the space above it for electrical wiring, lighting fixtures, plumbing, and HVAC systems. This makes it easy to access utilities for maintenance and repairs, as well as replacements or upgrades. Trust Aztec to ensure your ceiling tiles grid is set up correctly to avoid fires, leaks, failures, and fines. Depending on where you are located, there may be strict fire codes you need to abide by when designing and installing your suspended ceilings. Aztec's professionally licensed contractors follow all safety codes and restrictions so you can get a fully functional ceiling tile grid, without the worry of danger or legal trouble.
Ready To Get Your Hung Ceiling Installed?
Whether you just want help in figuring out the best options for your space, or you want us to fully design and install your hung ceiling, Aztec is here to help! Call our team of licensed professionals at 714-771-6580 to get the process started today, and to take control over your open office space. You will love the difference adding suspended ceilings adds to your room, and the savings and benefits you will be able to take advantage of. Or, request a quote here!