Guard Houses & Modular Booths
Security is a priority for any business. Guard houses and modular booths are a great way to secure your property. The traditional methods of building a security booth can take time and money. Modular guard houses, also known as guard shacks, have been gaining popularity in recent years. They provide companies with an affordable solution to their security needs. Modular guard shacks offer your business an affordable and efficient way to secure your property without sacrificing quality or style.
Aztec offers modular solutions that are cost-effective because they require fewer materials than traditional construction methods; plus, they offer more flexibility when it comes to customization options like colors or logos so businesses can create an aesthetic that matches your brand identity perfectly! Additionally, installation processes are quick because all components come pre-made, making them perfect for companies who need a reliable security solution fast! If you're looking for an effective way to protect your business from intruders while keeping costs low, check out our modular guard houses!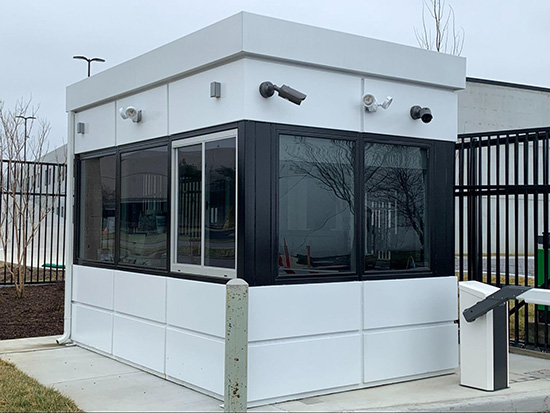 Why Choose Modular Guard Shacks?
Cost-Effective Solutions
Modular guard shacks are more cost-effective than traditional construction methods because they require fewer materials and less labor to construct. This means that businesses can save time and money while still providing adequate security to their property. Additionally, since most prefabricated guard shacks come with pre-made components, you don't have to worry about customizing or designing the structure from scratch. All you need to do is purchase the prefabricated units and install them on your property. It's that simple!
Flexibility
Another major benefit of using a modular security booth is that they offer more flexibility than traditional construction methods. With prefabricated units, it's easy to add new features or make changes without having to tear down the existing structure. This makes it easier for businesses to make modifications as needed without having to start from scratch every time they want to make changes. And since most of these modular booths are made from durable materials like steel or aluminum, they can also stand up against weather conditions like rain or snow without needing additional maintenance or repairs.
In addition, modular security booth solutions also allow you to customize the look of your security booth or guardhouse with different colors or designs that match your brand's aesthetic. You can even add signage such as company logos or slogans for extra visibility!
Quick Installation Process
Installing modular booths is much faster than installing traditional ones due to their simplified design process. All you have to do is order Aztec's prefabricated components, then have them shipped directly to your location where they can be assembled quickly by a team of experts so you can get back up and running in no time! Plus, since most of these structures come with pre-made components like doors, windows, and walls already included in their design, there's no need for complex measurements or calculations. Just assemble and enjoy!
Want our team to build it for you? No problem! At Aztec, we understand the importance of keeping your business running while making improvements to it. Modular booth design, distribution, delivery, and installation are our specialties. We get your guard house up and running quickly and with minimal interruptions to you.
Security Booth Applications
Keep your facility secure by utilizing our prefabricated guard booths. Aztec has been providing companies just like yours with modular security booths for years. Our team of experts will design the perfect guard booth to keep your business, campus, property or assets safe. Common applications for our modular guard shacks solutions are:
Medical buildings
Scientific research facilities
School and college campuses
High profile businesses
Private gated communities
Warehouses and factories
Commercial buildings & parking lots
Types Of Guard Houses
Aztec offers three main types of guard houses including: Security buildings, Guard Booth & Security Booths, and Ballistic-Rated Guard Booths & Buildings. We offer prefabricated options for quick and easy installation, as well as fully customizable booths and guard shacks. Let our team help you discover which is the best option for your unique business needs. Because our security booths are made from prefabricated materials, our lead times are substantially better than traditional builds. We also keep waste to a minimum, and can include your company's branding for an upscale and cohesive look. Our three main types of guard booths are:
Security buildings
Protection comes in many forms, and custom-designed security booths are a great way to safeguard your property from theft. With a visible, physical deterrent like an onsite guard station, you can provide your employees with both comfort and peace of mind knowing that they're protected from criminal activity.
Security buildings are essential to ensuring your business is protected from potential criminal activity during and after business hours. They don't just house personnel and equipment, they also provide an intimidating presence that helps keep trespassers away at all hours day and night. Create a secure workspace for your workforce with custom-designed security solutions tailored specifically to the needs and looks of your company!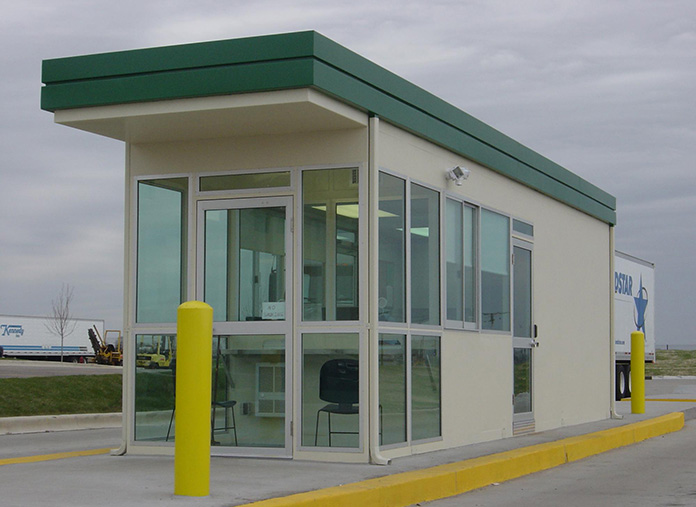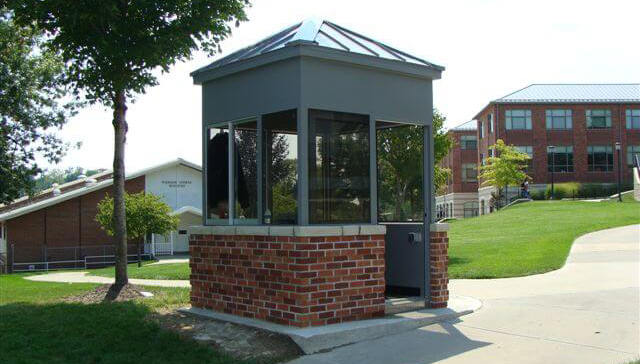 Guard Shacks & Security Booths
Whether you have a healthcare, government, manufacturing or warehousing building, your business can benefit from an Aztec guard or security booth. We manufacture customized prefabricated units that can be quickly assembled in the exact dimensions you need. Aztec is also a trusted distributor for major brands that offer fully pre-built and configured booths for anyone who needs shorter lead times.
Ballistic-Rated Guard Booths & Buildings
When safety is of the utmost importance, high-risk industries like military and government sites can rely on ballistic rated guard houses. These structures offer maximum protection for security personnel who ensure secure operations across a range of facilities. Our ballistic-rated buildings are a secure and reliable solution for those seeking rapid occupancy. We provide swift, factory assembled interiors with optional plumbed restrooms that can accommodate round-the-clock security operations. Get your site secure and ready in no time!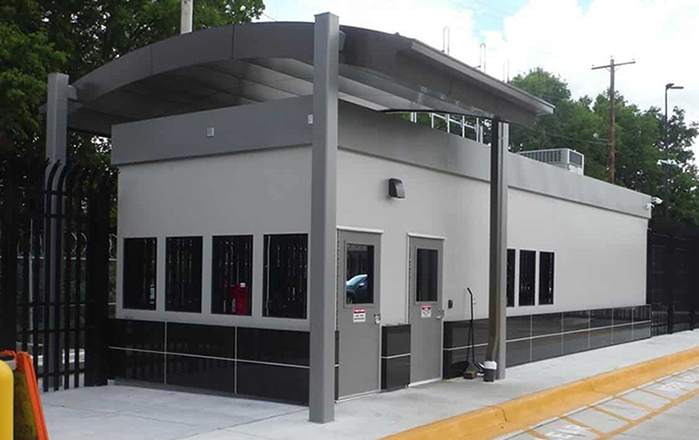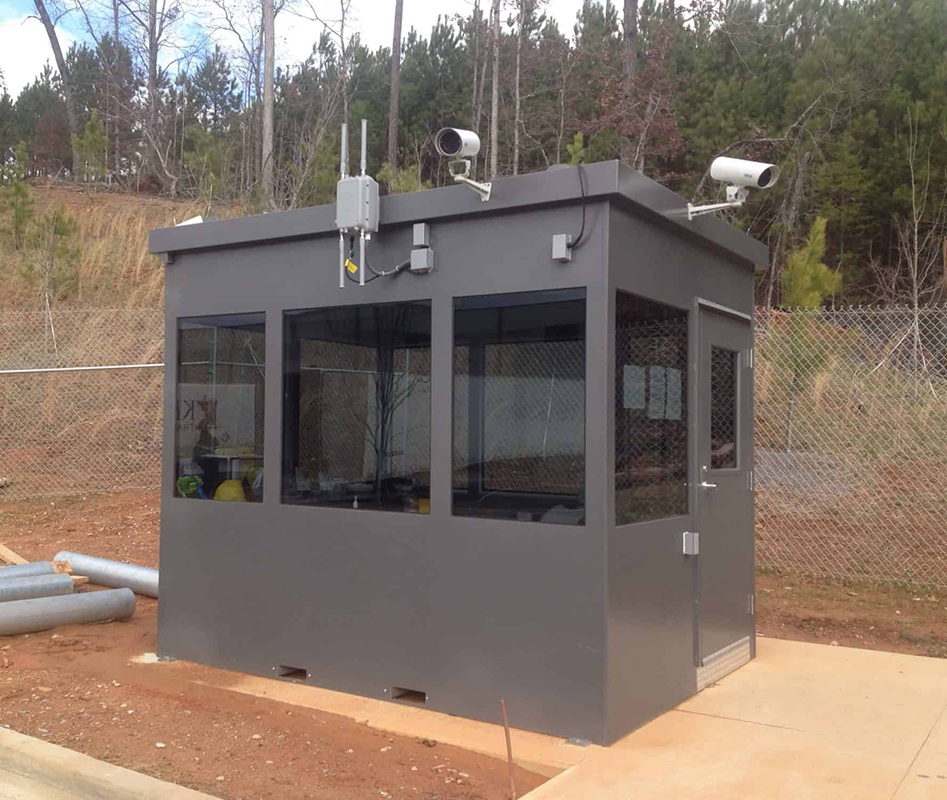 High Security Booth Features
Choose a security booth that offers real protection from criminal threats as well as intense weather and climate threats. With options including bullet resistant walls and glazing, you can rest assured your personnel and products will remain safe. Harsh weather is no match for our steel or maintenance-free anodized aluminum guard booths. Other high security booth options and features include:
Ballistic rated materials for high threat environments
Exterior lighting to illuminate and monitor outside/ surrounding areas allowing users a clearer view
High security locks and access control devices
Factory plumbed restrooms and a variety of HVAC options to keep staff safe and comfortable without needing to leave the booth
Roll down shutters for building protection from theft and vandalism
Factory-applied brick or other custom wall, roof, and window designs to enhance aesthetics and performance
Eco-Friendly Modular Booths Solutions

Beyond simplicity, speed, and ease of use, Aztec's modular booth solutions offer an eco-friendly approach to building. Unlike traditional builds, modular and prefabricated security booths create little to no mess or waste. They often are produced from recycled and recyclable materials that can be transported and assembled with very little carbon footprint. Not only do our modular guard shacks make it easy for you to get protected fast, they also will help you to protect the environment simultaneously.
Ready To Get Your Security Guard Booth?
Aztec is here to answer any questions you have, and to make getting your guard booth as easy and quick as possible. We understand the importance of having your team and business safe and secure, which is why we aim to have the fastest turn around times in the modular booth business. Call (714) 771-6580 today to connect with our team of professionals, and let us design, deliver, and install your top of the line guard booth. Or, request a quote here!