Guard Railings, Handrails & Cane Railing
Aztec's guard railing systems provide essential workplace safety and security, keeping your staff safe from hazards while maintaining productivity. Our construction is tough and completely reliable, and conveniently easy to assemble with low installation costs. Our guard railing provides peace of mind that accidents won't take their toll on your people or profits. Invest in guard rails for the ultimate protection against occupational risk, to control warehouse space, and to make it easy to section off distinct areas!
Safety Guard Railing For Machines & Walkways
There is no limit to the importance and potential applications of guard rails in your business. From steel handrails for guided safe walking in potentially slippery areas, warehouse guard rails around machinery & equipment, Aztec has railing solutions to add stability and ease to your flooring plan. Our line of safety guard rails incorporate easily into existing flooring plans and come in a variety of lengths, heights, colors, and materials. You can create customized warehouse guard rails for optimal function and safety.
Keep your space safe and productive with warehouse guard rails. Our barriers provide an ideal safeguard solution to help protect people, equipment, and inventory areas in warehouses. Easily create designated traffic pathways along machinery or rack-aisle ends as well as secure offices, mezzanines, electrical panels & more, while increasing safety protocols for every worker.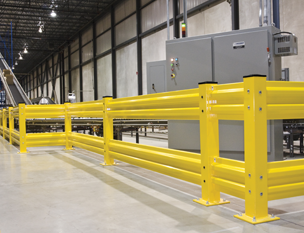 Heavy Duty Steel Guard Rails
When you need structurally solid guarding around your expensive machinery and equipment, trust our line of heavy duty steel guard rails. Prevent collisions, and inventory damage by surrounding it with steel guard rails. Railing can be low as it is meant to protect from warehouse vehicles and cars. We offer brightly painted steel guard rails in yellow to draw attention and help prevent accidents before they happen. Custom configurations, sizes and shapes are available.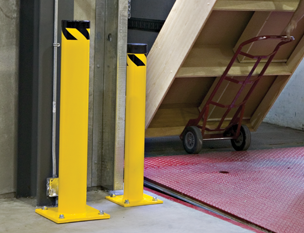 Cane Rails & Bollards
When you need a small area blocked off or guarded, you can select from our cane rails or bollards. These easy to install and remove rails give you protection in small or awkward spots such as in corners, under stairs, or around / in front of utilities. Also available in bright yellow painted steel or plastic, these cane rails and bollards give added collision prevention where you need it most. Simply bolt in and add epoxy or cement when needed. Our team of experts will help you decide on the proper installation methods for your needs and location.
Safety Guard Rails For Pedestrians
Protect your team and customers with pedestrian safety guard rails and steel handrails. Our powder-coated bright yellow paint finish easily designates safe walkways in a busy, noisy or confusing warehouse. Keep dangerous areas away from employees by using our durable barrier system around storage areas, manufacturing equipment, moving machinery and more, allowing everyone to remain aware of their surroundings at all times. Our steel handrails also provide added walking support in potentially slippery or hard to access areas.
Pedestrian guard railing and steel handrails are the perfect solution for quickly and economically protecting your workforce. With a modular design, these guard rails can be arranged in any configuration to fit various shapes and sizes, making them easy to repair too. Simply remove damaged components and replace them with new ones whenever needed. Aztec proudly offers two rail and three rail systems that meet OSHA standards. Never worry about employees not knowing where they should go within an area of protection again!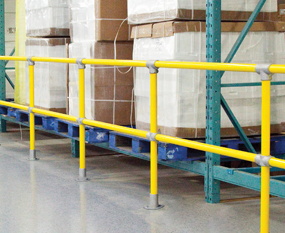 Guard Rail for Pallet Rack Protection
Aztec offers pallet rack protection guardrails so you can keep inventory protected, and in place where they are supposed to be. Easy to see with bright yellow color for safety, and built from steel to withstand abuse even from machinery. Accidents happen, but with our pallet rack protection rails, you can at least minimize damage. Our pallet rack guard rails even act as forklift guard protection. All around, your warehouse is a much safer place with guardrails around your pallet racks.
Ready To Get Your Railing?
Aztec makes it easy to add safety railing to your warehouse or factory. Our team of experts will measure your space, and help guide you in which type of railing is best for each area of your facility. We will either offer installation advice, or you can hire our licensed professionals to install your railing for you. Whether indoors or outdoors, on wood, metal or cement, we have what you need to install durable, safety railings today. Speak to our team today to get started! Call 714-771-6580 today to get started. Or, request a quote here!