Growrooms
If you are considering building a grow room, or updating an existing one, Aztec can help. We offer shelving and racking systems for open warehouses, green houses and more. No matter where you would like to develop your grow rooms, we have custom solutions available. From manufacturing, to distribution and building, Aztec has provided solutions to the Cannabis industry for years. Quick, high quality grow rooms are one of the most important factors when you are trying to build or grow a Cannabis business.
About Grow Rooms
With Cannabis now legal in 33 states, the industry has expanded exponentially. An influx of DIY entrepreneurs interested in building a grow room of their own, has emerged. However, success doesn't come easy, and establishing a commercial indoor environment for a grow room is no small feat! When looking to optimize profits, you must have a discerning eye for details when it comes to structuring your space.
Considerations like air quality, humidity levels, temperature control, and ventilation requirements are all very necessary to ensure proper safety and successful growing healthy plants. You will want to make sure that you obtain commercial grow room design plans that are done by a professional. Grow rooms can very easily be built incorrectly, leading to huge inventory and monetary losses, as well as developing a bad reputation in the industry. Don't put your business at risk by underestimating the importance of properly built grow rooms.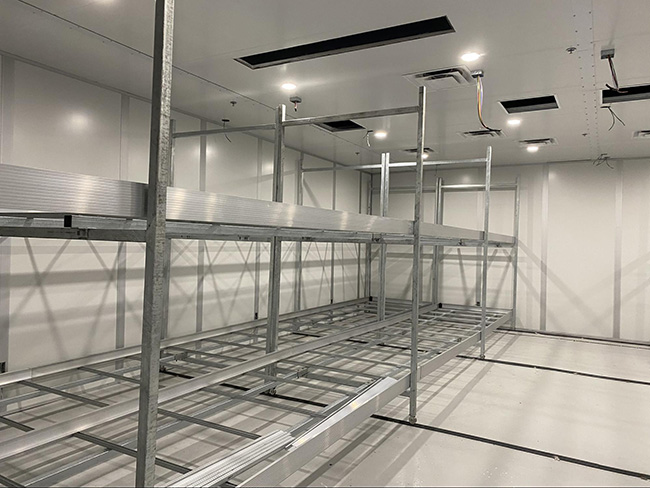 Building A Grow Room
If you are looking into building a grow room on your own, Aztec can help by supplying the shelves and racking systems you need. Building a grow room yourself can be a great way to save some money, we want to give you a few things to consider before jumping in head first. If done improperly, you may waste more money than you save, and put your production way behind schedule.
Commercial Grow Room Configurations
Aztec offers shelving and racking systems for commercial grow rooms for a wide variety of configurations, as well as customized racks, shelving, lockers, and partitions. When you decide to build a commercial grow room, you must abide by certain standards of air ventilation, filtration, monitoring and circulation.
Temperature control is essential for the livelihood of your plants. Since your entire business is built on the health of your Cannabis plants, you want to make sure you get all of the climate and oxygen control details correct to avoid business interruptions and inventory damage. Other considerations for creating the optimal grow room environment include grow room water irrigation systems, and lighting design. While Aztec does not offer these services, we do provide racking and shelving that adapts to the needs of grow room standards.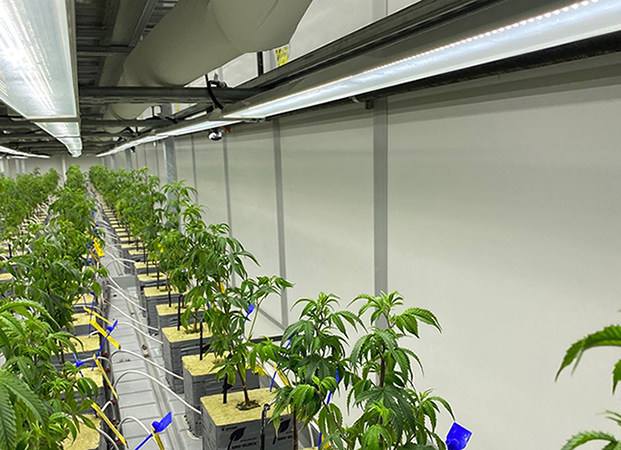 >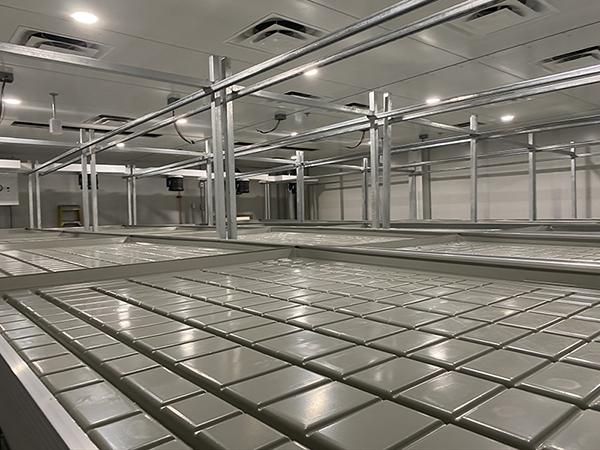 Grow Room Materials
Aztec offers customized grow room mezzanines, catwalks, hanging structures, security lockers, guard booths and more to create a fully functional grow room inside and out. When you are growing tall plants, you will need easy access to the top. Moving a ladder around isn't safe or practical. Custom built mezzanines allow you to easily access the entire plant for quick maintenance and accurate pruning.
When plants grow too tall, they interfere with your ability to harvest due to prolonged vegetation states. Another main reason for adding mezzanines to your indoor growing room is to maximize your square footage. By utilizing the additional height, you can produce more product and use less space. These heightened indoor Cannabis growing capabilities allow you to grow plants faster, with superior quality.
Security Areas for Finished Products
Aztec offers security areas for the safe processing of finished products. When it comes to a successful business, you want to make sure all of your bases are covered. By having safe and secure areas for your employees to work in while processing materials, you can rest assured your business and inventory is protected. Choose from a wide selection of customizable security areas including modular locking offices, or large security cage areas.
Product Packaging Areas
Our product packaging areas for the Cannabis business are made to give your team a space to process and package goods. By having a designated packaging area, you can keep your workflow organized, and more easily account for inventory. You can also better protect your team, business and products. Aztec offers several options for creating product packaging areas in your warehouse, call today for details.
Legal Considerations
Whenever you start any business, it is always advisable to consult a lawyer. When you are investing money to develop a space, especially one that you are renting, you will want to make sure to get everything in writing up front. Starting Cannabis business has many intricacies, and Aztec does not offer any legal advice. We have helped lots of companies design and build optimal grow rooms for their Cannabis business. However, we can only tell you what works for growing healthy plants, without the expertise of properly establishing your business legally. Please check with your local authorities before beginning yourbuild to avoid complications down the road.
Ready To Optimize Your Grow Room?
The best part about utilizing modular and prefabricated mezzanines, catwalks, cleanrooms, racks and more is that you can build as you grow, or complete an entire remodel all in one job. Aztec makes it easy to create professional grow rooms in any space whether you need to add lighting, reach high plants, keep pests out, or keep inventory safe. Call our team at 1 (714) 771-6580 today to learn more!