Racking Systems
Racking systems for warehouses are an invaluable tool for keeping large-scale items organized and easily accessible. Whether you're a retail outlet or a major distribution hub, racking plays a vital role in the efficient storage and retrieval of goods. Aztec offers customizable racking systems, and rack protection so you can create the exact facility you desire.
Pallet racking, the most common type of racking system, is designed to handle heavy materials by evenly distributing weight throughout its frame. For warehouses stocking lighter items such as metal products or pipes, cantilever racking is an ideal option that allows storage of multiple units without impeding access. As each warehouse's racking needs vary greatly depending on its size and stocking requirements, custom racking configurations can also be designed to offer optimal organization and support. With these adaptable racking solutions at your fingertips, you can keep your business running smoothly and correctly store your supplies with ease.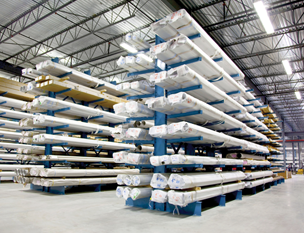 Pallet Racking
Pallet racking systems are necessary for any business that handles large amounts of inventory and supplies. They can provide the convenience of having readily accessible palletized materials for quick delivery, retrieval, and storage. Pallet racking systems are designed to maximize vertically-stored pallets, thus allowing more pallets to be stored from floor to ceiling in a warehouse. This arrangement also enables workers to better utilize every square inch of their working space by placing pallets in tiers on a pallet rack, therefore maximizing inventory capacity and efficiency. Pallet racking comes in various sizes and configurations, so businesses should consider their needs before making any purchases. Such considerations include the size of the pallets being used, height requirements for storing palletized items, strength of building components, and load limits of pallets per shelf level to name a few.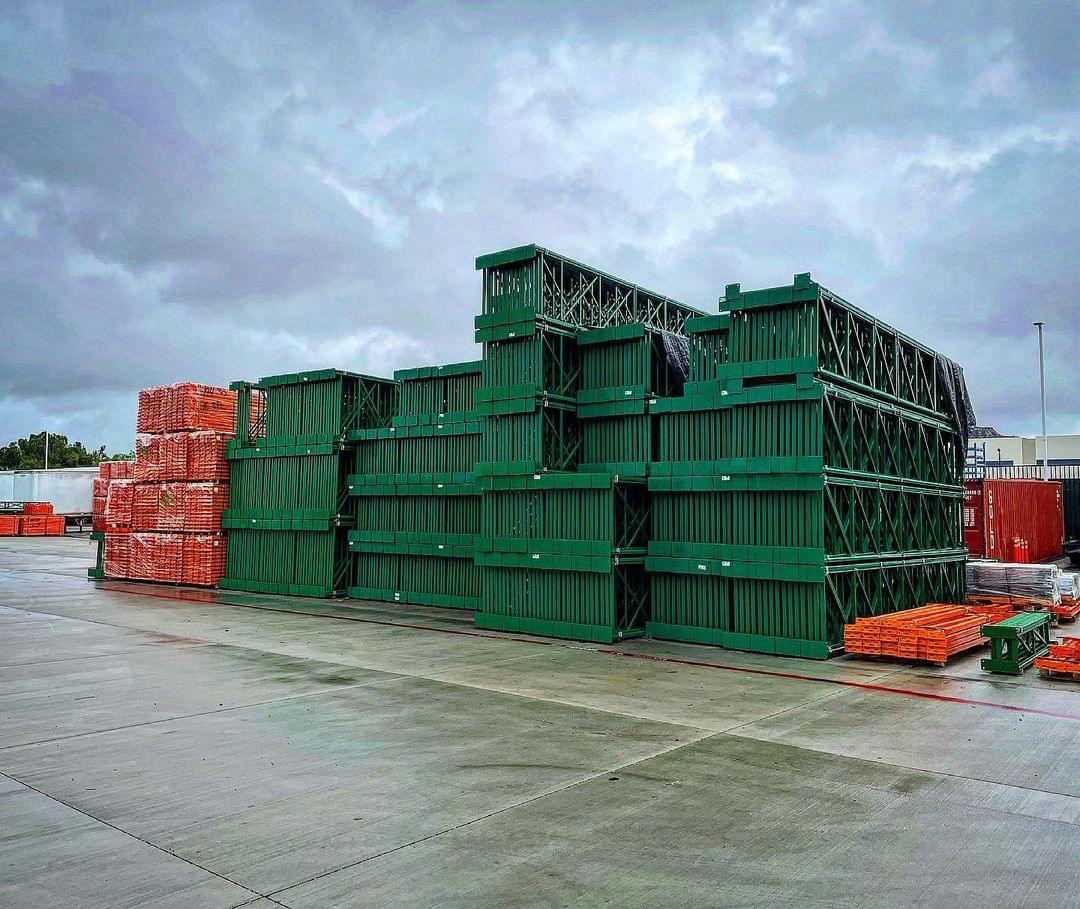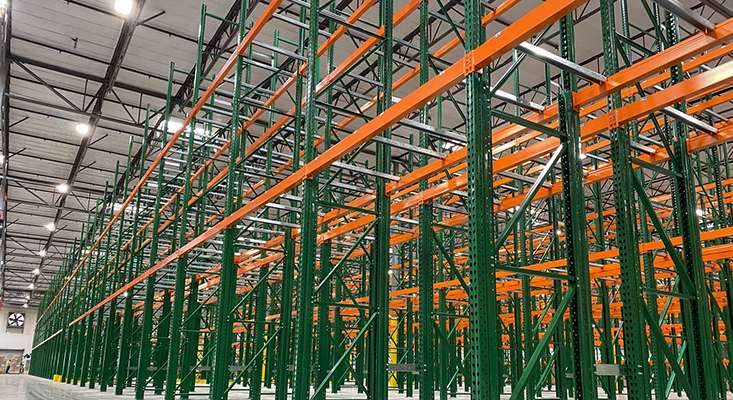 Rack Protection
When you're dealing with heavy duty equipment, storage, and racking systems, safety is of the utmost importance. That's why Aztec offers rack protection including rack backs and pallet backstops. Our systems are designed to protect isleways from falling materials. Keep your team safe, and protect your investment. Broken and damaged materials cost you lots of money and time. By utilizing our safety rack protection features, you can ensure you will minimize unnecessary waste.
Cantilever Racking
Aztec is proud to offer Cogan Structural Cantilever Racking. It is the perfect solution for handling even your most demanding and heavy-duty loads. This innovative arm system makes loading easier than ever, allowing you to access short, long or awkwardly shaped items from front without obstructions blocking your way. Made of structural steel components with full height columns featuring punched holes throughout each column upright for increased adaptability and storage possibilities, it's built tough enough to withstand any industrial application! The powder coated paint finish provides ultra-resilient protection against wear indoors, and special polyurethane liquid coatings are available when exposed outdoors too!
Very Narrow Aisle (VNA) Cantilever Racking
Very Narrow Aisle (VNA) Cantilever racking is an efficient, effective solution providing racking systems for warehouses and storage. Easy to install and configure, VNA racking can hold a variety of materials ranging from bulk items like pipes, to small items such as bins or boxes. It provides an excellent alternative to standard racking for warehouses by allowing better access and more storage options in tight previously inaccessible spaces. The loading and unloading of materials can be automated with the use of special forklifts and lifts, reducing the need for manual handling. Highly flexible and customizable, VNA Cantilever racking is an ideal storage system for warehouses world-wide.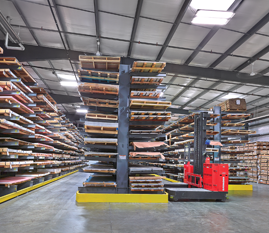 Indoor Storage Racking
Indoor storage Cantilever racking systems are a great option for businesses looking to maximize indoor warehouse space. Not only does it provide efficient and effective indoor storage, but it also utilizes wall-mounted racks to give a much more organized look than traditional indoor storage solutions. Cantilever racking for warehouses is a simple way to store items such as furniture, large-scale machinery, doors, and other bulky objects with ease. Unlike other indoor storage systems, it requires no beams or cross bracing structures which allows for a clutter-free indoor storage solution that can be adapted for any indoor space. Additionally, they can be adjusted in order to accommodate different product sizes, making it an extremely versatile and cost-effective indoor storage option for businesses nationwide.
Mobile / Motorized Cantilever Racking
Motorized Cantilever racking is an innovative storage solution that gives warehouse operators the ability to quickly and easily access products from high shelves. This system utilizes motorized mechanisms that are often integrated with computer-controlled systems, allowing for the cantilever racks to move up or down and the arms to move in or out as needed. Motorized Cantilever racking is especially beneficial for warehouses with deep, expensive shelving solutions as it can greatly reduce time spent on finding items and improve efficiency overall. Motorized Cantilever Racking also helps to improve safety since it eliminates the need for workers to climb ladders or use other unsafe methods of accessing items miles above ground level. Thanks to Motorized Cantilever racking, warehouses are able to save both money and time while supporting a safe working environment.
Lumberyard Cantilever Racking
Lumberyard Cantilever racking is a popular and versatile form of storage for both horizontal and vertical lumber. It provides maximum support for extra-long pieces, as well as allows for easy access to all levels of inventory. With Aztec's heavy duty lumberyard racking designs, even the most awkward sized boards are easily accessible without compromising safety or strength. Lumberyard racking has specialized cantilever arms that provide greater support and resistance against wind, thereby reducing the chance of damage. It also comes with an adjustable tube base that can be tailored to fit any size space, making it an ideal choice for both small and large businesses. Lumberyard cantilever racking systems are the perfect way to store lumber, while still ensuring their maximum safety and security.
4-Seasons Cantilever Racking
Protection in any season. Snow, ice, rain and sun can wreak havoc on your storage and racking systems. With Aztec's selection of 4-season racking and storage solutions you can protect your materials from damage, fading and more. These covered racking systems provide extra assurance by utilizing structural steel components, heavy duty treated wood joists, and galvanized finishes for extra weather-resistance. Cantilever L-sheds and T-shed roofs are custom manufactured for your specifications and needs.
Construction Cantilever Racking
Construction Cantilever racking is an ideal solution for any construction project that requires material to be stored in an efficient, safe, and economical way. This type of racking makes it easier to store larger material such as sheet metal, steel beams, and sheet rock while occupying less space than traditional structural racking design. The cantilever arm allows workers to move materials quickly when retrieving or placing them back on the rack. Construction Cantilever racking provides a secure storage option, while offering convenience and flexibility to meet the needs of all construction sites. It is strong yet lightweight, so it can be installed easily and adjusted easily when required. Construction Cantilever racking provides cost savings, through enhancing efficiency and helping reduce labor costs.
Ready To Get Your Racking Systems In Place?
Aztec offers customizable racking systems for your warehouse, and/or storage yard. We have indoor and outdoor solutions that will organize your materials, products, shipments and more with ease. Utilize previously hard to access space, and get the most from your square footage. Call our team of specialists at (714) 771-6580 today to learn more about how we can help you streamline your process and upgrade your tracking systems. Or, request a quote here!