Vertical Reciprocating Conveyors - VRCs
Vertical reciprocating conveyors (VRCs) offer a reliable and cost-effective way to lift equipment and transport materials. They are typically used to transport heavier items where vertical movement is necessary, such as parts and machinery in warehouses and factories. VRCs come in a variety of sizes that can fit any need, from small platforms to full-size freight elevators that can accommodate loads up to several thousand pounds. Additionally, they have safety features like built-in limits and emergency stops, making them a safe solution for any vertical transportation task. With their simple design and easy setup, vertical reciprocating conveyors provide an efficient way to lift equipment and materials in many industrial settings.
Advantages of Utilizing VRCs
By utilizing the impressive technology of vertical reciprocating conveyors, you can access space in your storage areas for large and heavy items that in the past needed to be kept near the ground. VRCs give you the opportunity to arrange your inventory without limitations, giving you full access to every square inch of your warehouse or facility. Keep floor space clear and inventory up off the ground safe from animal activity or flooding. Our conveyors will revolutionize the way you do business, and give you the power to store more than ever before.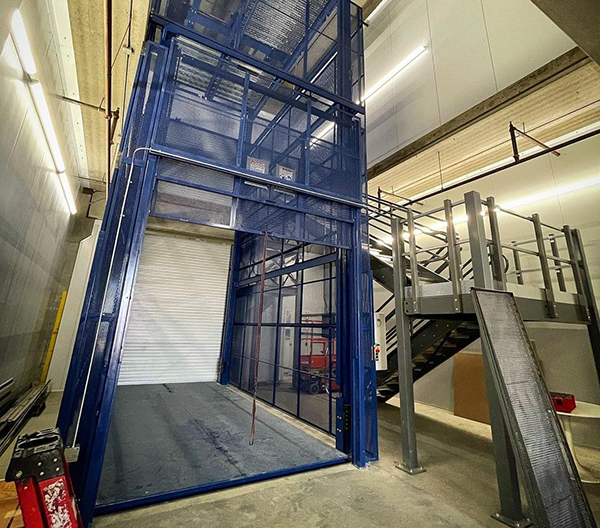 Benefits of Vertical Reciprocating Conveyors
This means you have more inventory on hand, which can lead to faster lead times, more sales, and loyal customers. By having more space for large and heavy inventory, you can produce more, sell more, and store more. Speak to one of our experts today to see how introducing vertical reciprocating conveyors into your factory can help. We help to design a workflow in your space with our decades of experience. We then deliver and install your new VRCs so it's done right, and ready to go quickly!
Hydraulic Cantilever VRC
Our 2-post cantilever hydraulic freight lift offers a safe and efficient way to move heavy loads, with no overhead restrictions to limit the amount of load height. Our standard models have powerful 4:1 cable reeving systems for maximum travel distance per inch of stroke - from 192 up to 360 inches – providing capacities ranging between 3,000 and 6,000 pounds. For needs surpassing these numbers, contact us to learn about custom options.
Conveyors & Mezzanines
High velocity and production conveyors need support from reliable Mezzanines and Catwalks. With thousands of products and packages moved daily, it is no surprise there is a lot of movement during production. By choosing Aztec's line of durable and sturdy mezzanines, you can create safe and secure production lines with fully supported conveyors. Considering product loads and other stress factors, our team will help you design the ideal layout to allow full support and easy access to your conveyor while ensuring maximum safety.
VRCs Features
Reduce warehouse footprint
Increase production
Increase space utilization
Get & stay organized
Provide easy access for workers
Reduce physical stress
Custom solutions for your space
Heavy duty materials
Seamless integration with mezzanines
Capital equipment, lease to own
Equipment Lift Solutions
Freight equipment lifts are an optimal choice for quickly and safely conveying high-capacity freight between levels. Aztec's selection of equipment lifts take your operations to the next level with exceptional custom design, small footprints per request, and guaranteed safety compliance through adherence to ASME B20.1 codes. We make it easy to lift equipment safely in hard to access areas.
Ready To Get Your Conveyors?
Call our team today to get all of your questions answered, and to begin setting up and designing your new conveyor system. With custom cut-outs, and multi-story building applications, Aztec gets you the perfect vertical reciprocating conveyor system in place for all of your production and storage needs. No project is too big or small, and we have helped a multitude of industries. Call 714-771-6580 today to get started! Or, request a quote here!